The UK's top civil servant described "being at the end of my tether" over Boris Johnson's indecision during the pandemic and said he "cannot lead".
WhatsApp messages shown to the COVID inquiry on Monday reveal the then prime minister's leadership ability frustrated some of the most senior figures in government.
Politics Live: WhatsApps by aides of Boris Johnson revealed
In one particularly disparaging message from September 2020, Cabinet Secretary Simon Case said Mr Johnson "cannot lead and we cannot support him in leading with this approach".
Mr Case, in a group that included then chief advisor Dominic Cummings, said: "I am at the end of my tether.
"He changes strategic direction every day (Monday we were all about fear of virus returning as per Europe, March etc – today we're in 'let it rip' mode cos (sic) the UK is pathetic, needs a cold shower etc.)
"He cannot lead and we cannot support him in leading with this approach.
"The team captain cannot change the call on the big plays every day. The team can't deliver anything under these circumstances."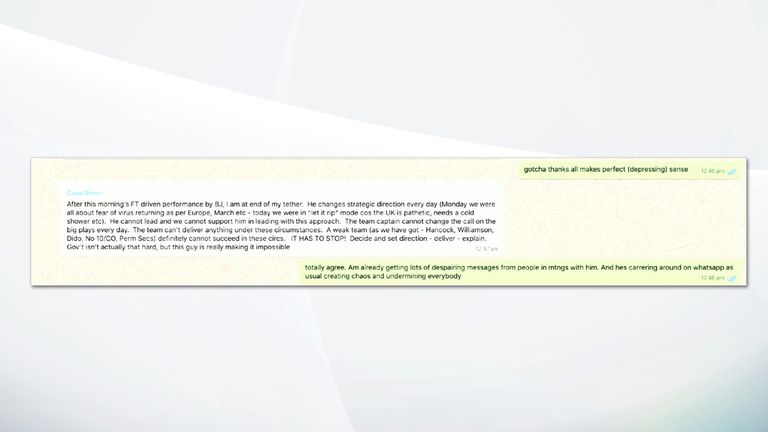 Mr Case goes on to admonish a "weak team", appearing to name former health secretary Matt Hancock and former education secretary Gavin Williamson, saying we "definitely cannot succeed in these circs (sic). IT HAS TO STOP!".
He added: "Decide and set direction – deliver – explain. Gov't isn't actually that hard but this guy is really making it impossible."
Mr Cummings replied: "Totally agree, am getting lots of despairing messages from people in [meetings] with him."
Read More:
Senior civil servant admits WhatsApp messages were 'set to disappear'
Johnson and Cummings sent 'disgusting and misogynistic' WhatsApps during pandemic
Later in the conversation, Mr Cummings said that "as always, discussions with these ministers is moronic. They cannot understand priorities".
Mr Case replied that the government "doesn't have the credibility needed to be imposing stuff within only days of deciding not to".
"We look like a terrible, tragic joke," he said.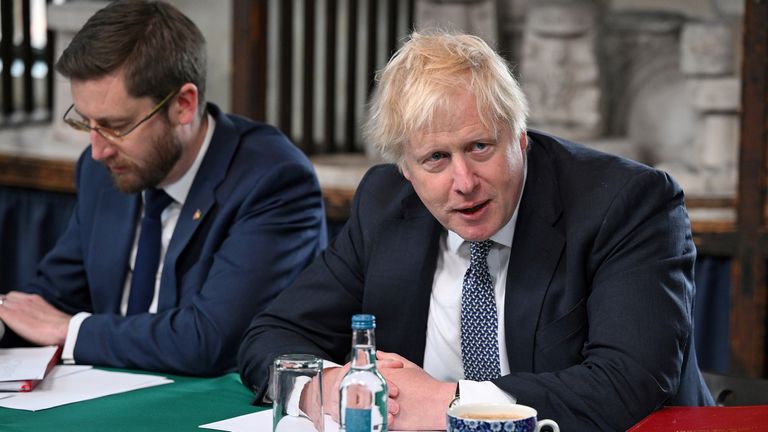 Lee Cain, the Downing Street director of communications, responded with a trolley emoji.
The messages were read out at a hearing in which Martin Reynolds – the former principle private secretary to Mr Johnson – was called to give evidence.
Mr Reynolds admitted Mr Johnson "could blow hot and cold" on some issues.
Asked if that included the "most vital issues which his government faced", Mr Reynolds said: "Yes, but also the most difficult choices the country was facing – both of which had very difficult consequences."
The inquiry was also shown a number of extracts from chief scientific adviser Sir Patrick Vallance's notebooks, including one which said Mr Johnson is "simply not consistent" on COVID.
A string of embarrassing messages have already been released to the inquiry, including how Mr Johnson described long COVID as "b*******" and that his wife, Carrie, had been described as "the real person in charge" by Mr Case.
'Culture of chaos'
The Liberal Democrats said the messages lay bare "the culture of chaos in Number 10".
Health and Social Care spokesperson Daisy Cooper said: "Warring factions, senior figures spinning in circles, and a complete inability to get to grips with any of the major issues facing our COVID response: bereaved families will feel sick to their stomachs hearing about this litany of failings which led to so much unnecessary suffering.
"Many will rightly be furious. Their actions have caused irreparable damage to trust in politics and put millions through unnecessary pain. It is unforgivable."
Mr Reynolds was infamously nicknamed "Party Marty" after writing a notorious "bring your own booze" email to Downing Street staff during the first lockdown – something he said he was "deeply sorry for" at his hearing today.
'Party Marty' says sorry for No 10 party email.

The lengthy session also heard how WhatsApp messages in a Boris Johnson group chat were "set to disappear" as calls for a COVID inquiry grew, and that the former PM "did not realise" the messages he sent on the app would eventually be made public at the inquiry.
Mr Reynolds is the first of several senior Downing Street officials giving evidence to the probe this week.
Mr Cain is expected to give evidence tomorrow after today's session ran over, followed by Mr Cummings – who is expected to dish the dirt on his old boss.
The first part of the inquiry looked at the UK's resilience and preparedness for a pandemic while the second part, which started this month, focuses on "core decision making and political governance" and will also see Mr Johnson give evidence.