Heavy rain over the weekend risks flooding areas that have already been hard hit by Storm Babet, according to forecasters.
The Met Office has yellow weather warnings in place for the eastern coast of Scotland, Northern Ireland and South East England on Saturday and Sunday.
Conditions are likely to bring between 50mm and 80mm of rain and 50mph to 70mph winds to parts of Scotland that were battered by Storm Babet last week. Rain warnings in Scotland are in place until 12am on Monday.
There has already been flooding in Hastings, East Sussex, where a shopping centre has had to be evacuated.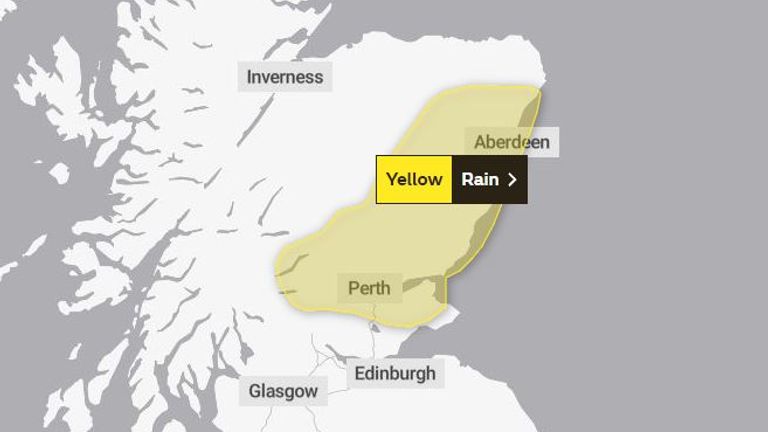 Check the five-day weather forecast where you are
Met forecaster Dan Stroud said: "On it's own the rainfall totals are not that high but given the fact we've had all that rain from Storm Babet it doesn't take much for there to be localised impacts because the ground is already saturated."
Some train services in Scotland have been suspended. There will be no direct routes between the Central Belt and Aberdeen and Inverness until Sunday.
LNER said there would likely be delays between Edinburgh and Newcastle. TransPennine Express and CrossCountry are also operating a reduced timetable due to flooding risk.
Seven people are known to have died during Storm Babet, including three in Scotland.
Sussex shopping centre evacuated
The warning for rain in the south and east of England lasts between 12am on Sunday and 12am on Monday.
It covers eastern England, London, Kent, Sussex and Essex and could bring between 15mm and 30mm of rain.
There are also 39 tidal and river flooding warnings in place, including several in East Sussex and Kent.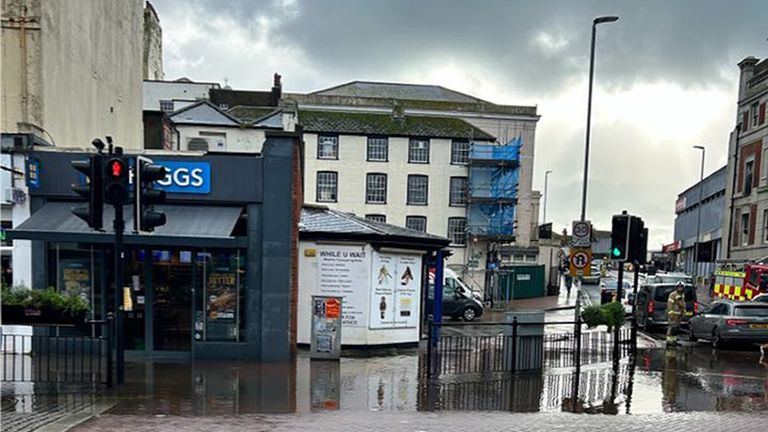 Commenting on the evacuation of Priory Meadow Shopping Centre in Hastings on Saturday, East Sussex Fire and Rescue Service said: "We are assisting in dealing with flooding at the Priory Meadow Shopping centre, Hastings. If you have cars in Hastings town centre you are advised to move them due to flooding."
Warnings in Northern Ireland cover the east coast and last between 9pm on Saturday and 12pm on Sunday.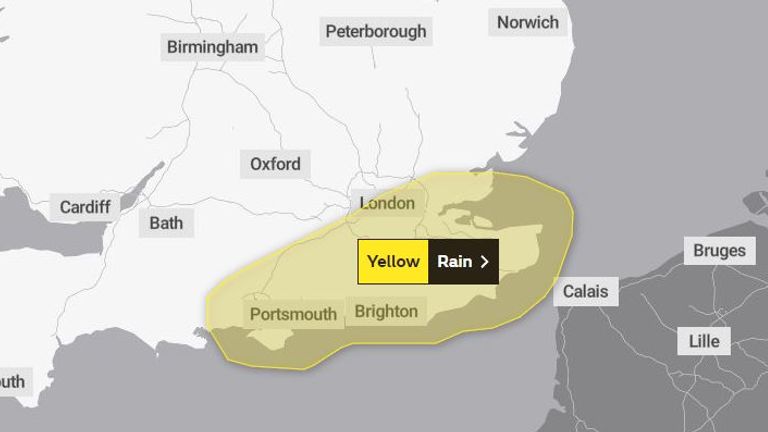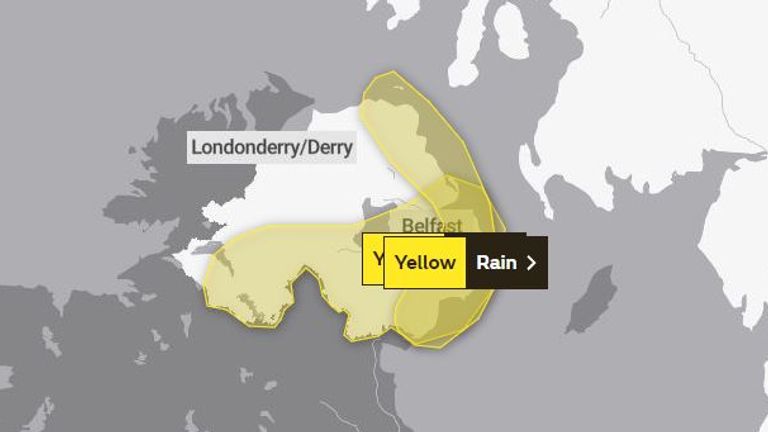 Commenting on the weather front, Mr Stroud added: "On Saturday we've got frequent showers across the south and west [of England] which will move across Wales.
"That will move northern eastwards during the course of Saturday and into Sunday, behind it showers which could be locally heavy and thundery and particularly squally.
"The band of cloud and rain will continue moving northwards during Sunday, especially focused in eastern Scotland, which is already rather sensitive following the high rainfall from Storm Babet."
Temperatures will range between 10C (50F) and 13C (55F) in the north of the UK to highs of 16C (61F) in the south.