"I just wanted to save my life," says Dhanabal, who came to Britain from India to study. But it was only the visa that came with the university place that interested him, and his plan was always to stay on after it expired.
The 26-year-old relies on cash-in-hand jobs to survive, waiting in Sheffield for a call from a mystery man he calls "the boss" to give him construction or cleaning work for "pocket money" and food.
"I had no idea when I came to the UK how my life would be – I just wanted to leave India," says softly spoken Dhanabal, who is wearing a grey tracksuit, with a neat haircut and beard. "I didn't think about what it would be like here."
Dhanabal – we're not using his family name – says his politics got him into trouble with the Indian police and he paid an agency £7,000 to arrange a university place in Britain.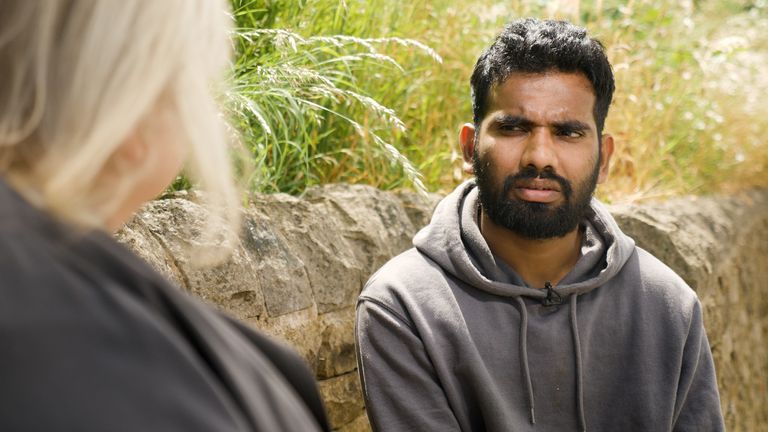 Sky News has seen a copy of his passport, which shows he arrived in 2021 on a student visa that was due to expire a few months ago.
He did a month of a master's course in business management at a university in the north of England, he says, but found it "too hard". The college where Dhanabal was given a place told us they couldn't comment on individual cases because of student confidentiality.
His story is a rare insight into the world of those who overstay their visas and go underground.
But with net migration to the UK at record levels – 606,000 people came to Britain from abroad during the 12 months to December 2022 – Sky News can reveal the government has no public data on the scale of those who overstay their visa and fail to return to their country of origin.
The system has "collapsed", says Vasuki Murahathas, who has worked as an immigration solicitor for 24 years. She estimates the number of calls from overstayers asking for advice has gone up 50% in the last year. There's no way of independently verifying this.
Her desperate clients want to know how to switch to working visas – which she says the government has just made more difficult – or find other ways to legally stay in the UK.
People "disappear and hide", she says, because they can't find sponsors for jobs, often falling into poverty and low paid cash-in-hand work when they can't find a way to sort out their immigration situation.
"Some are really suffering," she says. "The government is allowing people to come as students – they want more people to come as skilled workers but people are misusing the system to enter the UK.
"Some people are coming knowing they can overstay and no one can do anything."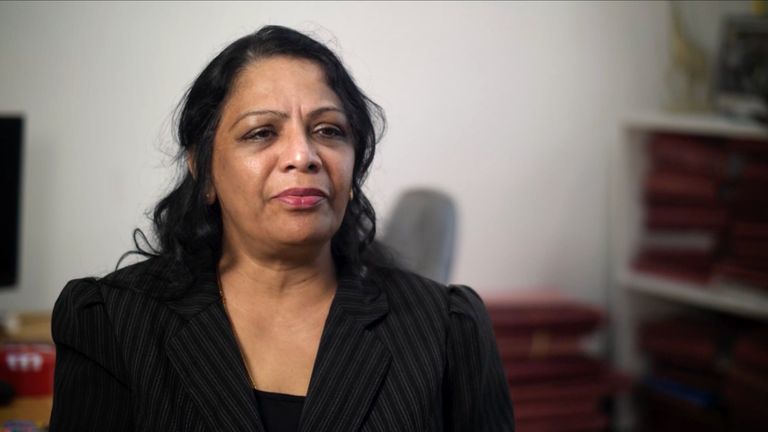 Dhanabal is not the only person who is struggling to survive after coming to the UK on a student visa which has now either been curtailed or expired.
Suresh, 35, shows us into a back garden in London where he is mowing the lawn and tidying the pathway. He tugs on the green jumper he is wearing, as he explains how he has been given clothes, not money, in exchange for his day's work.
"Sometimes people offer me food, sometimes I get £10 or £20," he says matter-of-factly. "Sometimes I do gardening or cleaning jobs. I don't get work every day. It's a hard life. One day I will be okay."
Suresh has lived like this for seven years after arriving from India on a student visa. He didn't start the course at the university in Wales where he was awarded a place.
"I don't want to go to college," he admits.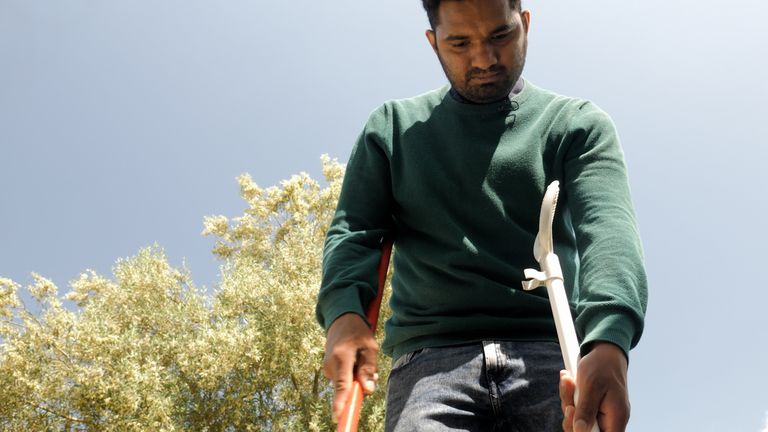 Some 1.1 million prospective students and their family members who came on study visas from January 2021 to March 2023.
But the Home Office told Sky News it can't provide data on exactly how many people have overstayed visas over the last three years.
The most recent statistics available are for the year ending March 2020 – which showed there were 1.9 million visas that expired during that time. There was no record of departure for 83,600 people whose work, study or family visa expired in that period.
Of that number, there were 54,689 people who arrived on tourist visas and 7,236 people who came on student visas unaccounted for.
Universities in the UK rely on the millions of pounds foreign students bring with them in tuition fees. According to data from the HESA – the statutory data collection agency for UK higher education institutions – there were 679,970 international students studying in the UK in 2021/22.
'Overstaying is against the law'
But potential abuse of student visas as a way to get to the UK means universities are under pressure to weed out applicants who aren't genuine.
The body which represents universities in the UK says targets set by the government for course completion and enrolment by international students are currently being met.
Some 85% of international students must complete their course, and 90% must at least enrol otherwise a university is at risk of being banned from recruiting from abroad.
Jamie Arrowsmith, director of Universities UK International, says the sector is "very well" equipped to address the issue and is "trying to ensure that those people that are applying to come to the UK" are "genuine students and that they're here to study".
A Home Office spokesperson says: "Those who have no right to remain in the UK and do not return home voluntarily should be in no doubt of our determination to remove them. Overstaying is against the law, unnecessarily costs the taxpayer money, and is unfair on law-abiding migrants who come to the UK through the legal channels."