At least 40 people have been killed in an explosion at a political rally in northwestern Pakistan, according to reports.
The blast happened on the outskirts of Khar, the capital of Bajur district in Khyber Pakhtunkhwa, said Geo News, citing local officials.
More than 100 people were also injured when the bomb went off at a rally organised by supporters of hardline cleric and political party leader Maulana Fazlur Rehman.
Some of those seriously wounded were airlifted to a hospital in the provincial capital, Peshawar.
Pictures from the scene also showed people being put into ambulances and the blast area being cordoned off.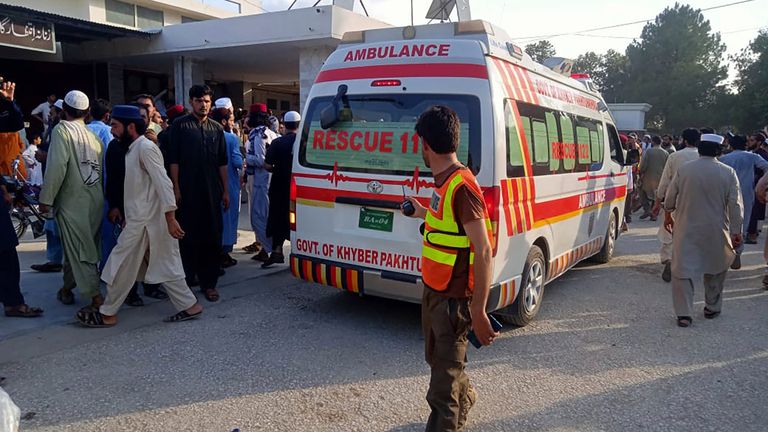 Local party official among dead
Police initially said 10 people had died, before increasing the number to at least 35.
One of the dead is the local leader of Mr Rehman's Jamiat Ulema-e-Islam party, Maulana Ziaullah.
Mr Rehman himself was not in attendance at the rally, party officials said.
His party is part of Pakistan's coalition government and he also leads the Pakistan Democratic Movement, which united opposition parties against the then prime minister Imran Khan.
The group formed in September 2020 in a bid to oust Mr Khan, succeeding via a no-confidence vote last year.
Area known for militant attacks
Sunday's event came as parties mobilise supporters for upcoming elections.
Nobody has immediately claimed responsibility for the attack, but the Islamic State group operates just across the border in Afghanistan.
Mr Rehman is considered pro-Taliban, the group which has governed Afghanistan since taking over in summer 2021.
Bajur was a safe haven for Islamic militants until recent years, when Pakistan's military carried out huge operations to eliminate the threat.
But there are still occasional attacks, targeting security forces and civilians alike.