England bowler Stuart Broad has announced his retirement from cricket.
The 37-year-old will end his career after this summer's Ashes series against Australia.
He made the "emotional" announcement after day three of the fifth Test match at The Oval, with England looking to tie the dramatic series at 2-2.
"I decided at 8.30pm last night," he told Sky Sports.
"I have been thinking about it for a couple of weeks. England vs Australia has always been the pinnacle for me.
"I have loved the battles that have come my way and the team's way. I have a love affair with Ashes cricket.
"I think I wanted my last bat and bowl to be in Ashes cricket."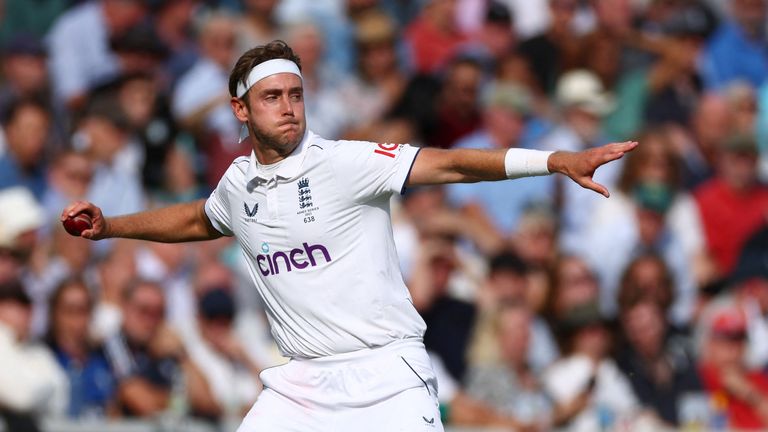 'True legend of the game'
Broad has been a key member of the England Test side since making his debut against Sri Lanka in December 2007, having won 167 caps, and is the leading wicket-taker in this summer's Ashes.
He's taken more than 600 wickets in Test cricket during his career.
Broad has served as both One Day and Twenty20 (T20) England captains, making 121 appearances in the former and 56 in T20.
England Cricket paid tribute to him on social media, describing him as a "true legend of the game".
'No regrets' after 'awesome' career
Broad, who co-owns a Nottinghamshire pub damaged in a fire last year, said his career had been "awesome".
He described this Ashes series as "one of the most enjoyable and entertaining that I've been part of".
"I don't think I will leave the game with any regrets. I will give it a red-hot go over the next couple of days," he added.
"It is such an addictive environment to be part of.
"I wanted my lasting memories to be loving the playing side, and that is exactly where I am at. Pure happiness."
Stuart Broad reopens pub after fire

As it happened: England build lead on day three of fifth Ashes test
England ended play on Saturday on 389-9, leading Australia by 277 runs.
Victory will tie the series, denying Australia a first Test series win on English soil since 2001.
The visitors had a commanding 2-0 lead before England began their fightback.