Nicola Bulley's family says the missing mother-of-two suffered a "crisis" after she stopped taking menopause drugs – as her loved ones revealed details about her struggles before she vanished.
Relatives also asked the public to end the "appalling" levels of speculation and "rumours" about her private life, as they spoke about the "significant" side effects she faced from the perimenopause.
The family said Ms Bulley suffered from brain fog and restless sleep and stopped taking hormone replacement drugs (HRT), commonly used to treat symptoms of the menopause, as it gave her "intense headaches".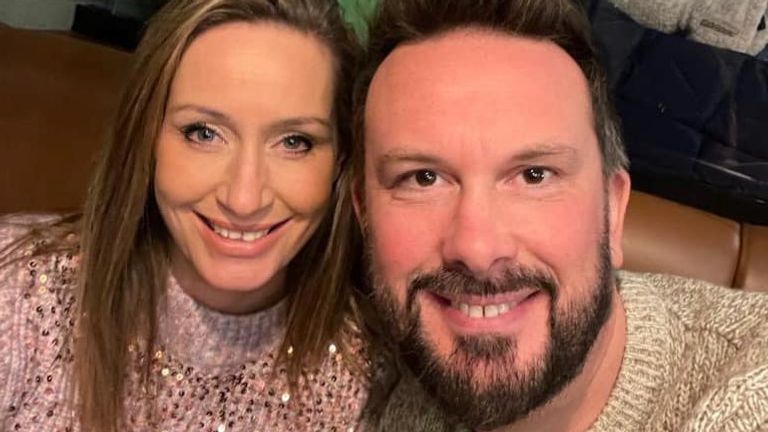 In a statement, they said: "Due to the perimenopause Nikki suffered with significant side effects such as brain fog, restless sleep and was taking HRT to help but this was giving her intense headaches which caused Nikki to stop taking the HRT thinking that may have helped her but only ended up causing this crisis."
It comes a day after Lancashire Police revealed that Ms Bulley had suffered with some "significant issues with alcohol" in the past, brought on by her "ongoing struggles with the menopause".
The 45-year-old has been missing since 27 January after vanishing when she took her dog for a walk by the River Wyre in Lancashire.
WHAT'S THE IMPACT MENOPAUSE CAN HAVE?
Menopause is the process where a woman's period stops due to lower hormone levels and usually happens between the ages of 45 and 55.
It can impact a person's mental and physical health and symptoms can include anxiety, mood swings, brain fog and hot flushes.
The NHS says menopause and perimenopause symptoms can have a big impact on a person's life, including their relationships and work, and campaigners believe there is not enough support for women.
Celebrities like Emma Thompson and Davina McCall have called for menopause to be recognised under the Equality Act as a protected characteristic.
They are a specific set of characteristics which it is illegal to discriminate against, including age and race among others.
But in January, ministers rejected a recommendation to make it a protected characteristic and rejected calls for a trial of menopause leave for women, claiming it could cause discrimination against men with long-term medical conditions.
Last year, the Women and Equalities Committee warned in a report that the impact of menopause was causing the UK economy to "haemorrhage talent".
A survey last year found one in 10 women who worked during menopause had left a job due to their symptoms, while others had reduced their hours, gone part-time, or not applied for a promotion.
Ms Bulley's family also said the public focus "must be on finding her" and not "making up wild theories about her personal life".
The statement continued: "We, as a family, believe that the public focus has become distracted from finding Nikki, and more about speculation and rumours into her and Paul's private life.
"As a family, we were aware beforehand that Lancashire Police, last night, released a statement with some personal details about our Nikki.
"Although we know that Nikki would not have wanted this, there are people out there speculating and threatening to sell stories about her. This is appalling and needs to stop.
"The public focus has to be on finding her and not making up wild theories about her personal life."
Police under fire for sharing personal details
The Independent Office for Police Conduct (IOPC) said it had made contact with Lancashire Police to "determine if a referral to the IOPC may be required" after details about the mother's private life were disclosed after a press conference on Wednesday.
The Lancashire force had initially refused to elaborate on "vulnerabilities" which made Ms Bulley a high risk missing person but later released a statement about her medical and mental health issues.
Lancashire Police has come under criticism for revealing Ms Bulley's struggles with alcohol.
But the family statement, published through the force, made clear the police "know the truth about Nikki".
The family added: "Despite what some media outlets and individuals are suggesting, we are being updated daily and receive support from our family liaison officers."
Read more on Nicola Bulley:
Reputation 'destroyed' by police, says ex-detective
Timeline – what were Nicola Bulley's last movements?
YouTuber arrested and fined after searching for Nicola Bulley
The defence of local officers follows widespread condemnation of the way Ms Bulley's personal information was handled.
Two MPs criticised the apparent "victim shaming" of Lancashire Police's disclosures this week.
And Martyn Underhill, a former detective who was involved in the Sarah Payne case in 2000, told Sky News that the force have "completely destroyed" Ms Bulley's reputation adding that he was "confused" by the force's strategy.
Police 'completely destroyed Nicola Bulley's reputation'

The dive specialist who has been helping police in the hunt for Ms Bulley also told Sky News that knowing the missing mum was "high risk" would have "changed our whole search".
Lancashire Police criticised online sleuths spreading false information about Ms Bulley's disappearance and said rumours are "distracting" officers from investigating the case.
Read more:
'Toxic' public interest may be 'dangerous' yet 'crucial' in case
'Your girls want a cuddle'
The family's plea for speculation to stop also included a direct message to Ms Bulley.
It said: "Nikki is such a wonderful daughter, sister, partner and mother and is missed dearly – we all need you back in our lives.
"Nikki, we hope you are reading this and know that we love you so much and your girls want a cuddle.
"We all need you home. You can reach out to us, or you can contact MissingPeople.org.uk.
"Don't be scared, we all love you so very much."
Ms Bulley was last seen at 9.10am on 27 January taking her usual route with her springer spaniel Willow, alongside the River Wyre.
Her phone, still connected to a work call for her job as a mortgage adviser, was found just over 20 minutes later on a bench overlooking the riverbank, with her dog running loose.