The war in Ukraine has wiped out half of Russia's fleet of modern battle tanks, say analysts presenting their annual assessment of military power in the world.
The staggering estimate was made by the International Institute for Strategic Studies (IISS).
Its 'Military Balance 2023' is the much-anticipated annual bible for military observers.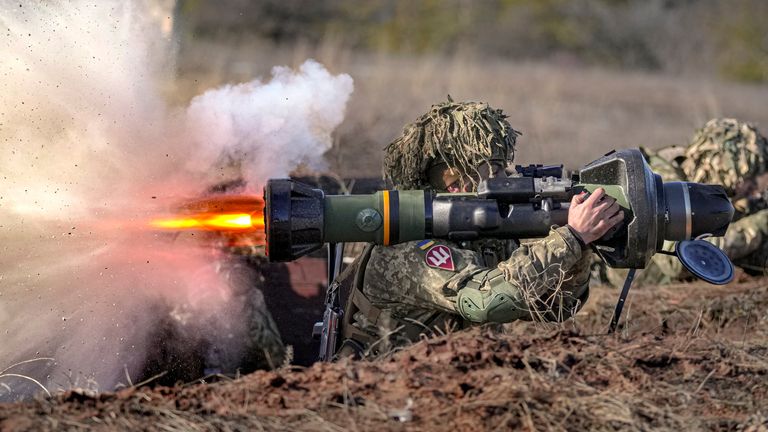 Ukraine war – latest: Putin likely to 'remain in power until the end'
The institute's team of tank spotters estimates Russia has lost up to 2,300 of its more advanced T72 and T80 tanks.
The estimate correlates with visual evidence on the ground in Ukraine which is littered with the carcasses of destroyed Russian armour, much of it taken out by British supplied tank-busting NLAW missiles.
It estimates that Ukraine has lost no more than 700 tanks. But it says the conflict is becoming bogged down.
"On the strategic level, the war in Ukraine is currently at a stalemate. We can expect another bloody year ahead, with action-reaction tactics by both sides", said Ben Barry, senior fellow for land warfare with the IISS.
Analysts confirmed they expect to see major offensives attempted by both sides in the coming month.
There were doubts over whether either would be successful.
Mr Barry said his "assessment is that Russia is going to find it difficult to concentrate credible and competent force to push the Ukrainians back".
Russia's offensive capability has been blunted, say the annual report's authors, in terms of both hardware and personnel. It is questionable whether "their land combat units are capable of offensive operations".
But Ukraine faces challenges too.
'Ukraine's window of opportunity to tip balance'

Read more:
British man who died in Ukraine named
Ukraine's backers struggle to keep in munitions race against Russia
It has asked allies for enough hardware to form 10 armoured brigades to enable it to launch counteroffensives and push Russia's military back to its borders.
"Current pledges by allies would supply 25 percent of that," said Mr Barry.
"It is not clear that Kyiv has enough combat power to rapidly eject Russian forces."
Click to subscribe to Ukraine War Diaries wherever you get your podcasts
Analysts said the jury was out as to whether the West would provide Ukraine with the wherewithal to achieve its war aims this year – the expulsion of Russia's invading and occupying force.
What is certain, they say, is the death of many more civilians, and months more intense fighting to come.