A US F-22 stealth fighter jet has shot down an unidentified cylindrical object over Canada – the second incident of its type in as many days.
Canadian Prime Minister Justin Trudeau announced the latest shootdown had occurred over the mountainous and sparsely-populated territory of Yukon in the northwest.
Canada's Defence Minister Anita Anand would not speculate on where the object came from.
She described it as cylindrical in shape but said it was smaller than the Chinese balloon shot down off the coast of South Carolina in the US a week ago.
It was flying at 40,000ft and posed a risk to civilian air traffic when it was brought down about 100 miles from the border at 3.41pm EST (8.41pm GMT), she added.
In the US, the Pentagon said that the North American Aerospace Defense Command (NORAD) had spotted the object over the coast of Alaska late on Friday evening.
The US fighter jets were scrambled from the state's Joint Base Elmendorf-Richardson and were joined by Canadian CF-18 and CP-140 aircraft after the object crossed into Canada.
Pentagon spokesman Brigadier General Patrick Ryder said that the US F-22 had shot down the object using an AIM 9X missile "following close coordination between US and Canadian authorities".
Mr Trudeau said that the military will recover and analyse the wreckage, adding that he has spoken to US President Joe Biden and thanked NORAD for "keeping the watch over North America".
The White House said Mr Biden and Mr Trudeau would continue close coordination to "defend our airspace", adding in a statement: "The leaders discussed the importance of recovering the object in order to determine more details on its purpose or origin".
The incident happened the day after the US shot down an unknown object flying in its airspace off the coastline of Alaska on the orders of Mr Biden.
It was flying at an altitude of about 40,000ft and was the size of a small car, the White House said.
In an update on Saturday evening, NORAD said it had "no further details at this time about the object, including its capabilities, purpose, or origin".
It added that "arctic weather conditions" including wind chill, snow, and limited daylight were a "factor" in the recovery operation.
6 Feb: Moment 'spy balloon' is shot down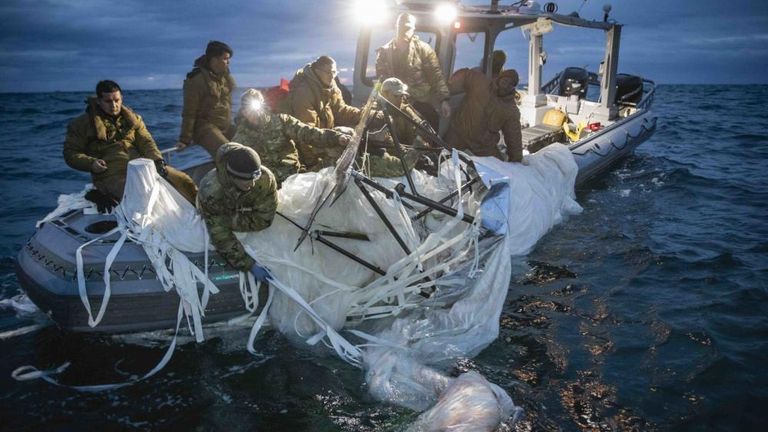 That object was spotted just days after the US downed a Chinese balloon believed to be a spy aircraft.
China maintained the balloon was an airship for scientific research that had accidentally flown over the US.
It was shot down by fighter jets off the coast of South Carolina – with the US military starting to collect the debris shortly after.
The Pentagon said much of the balloon has been recovered or located.
The incident sparked a diplomatic row between China and the US, with Secretary of State Antony Blinken postponing a visit to China that had been due to start just a few days later.